USA PEOPLE SEARCH BY NAME!
❖ Current Address
❖ Phone Numbers
❖ Criminal Records
❖ Public Records
❖ Neighbors
❖ People's Age
❖ Property Ownership
❖ And Much More






Making Musical History With David Sanborn's Night Music
Wed, 5 Feb 2014
Making Musical History With David Sanborn's Night Music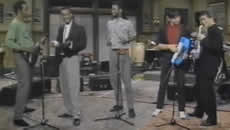 The Night Music Band Playing Toy Electronic Instruments.


---
Night Music
We don't know how history will judge David Sanborn's "Night Music", but this shortlived show is still a cult hit with music fans everywhere.
Where else could you find a show that put musicians like Sting, Al Green, Eric Clapton, Lou Reed, Leonard Cohen, Gladys Knight, Dizzy Gillespie, Take 6, Carlos Santana, James Taylor, Red Hot Chili Peppers, Toots Thielemans, Pat Metheny, Al Jarreau, The Platters, Sonny Rollins, Dizzy Gillespie, Donald Fagen, Miles Davis, Jeff Healey, Stevie Ray Vaughan and so much more, on a single stage?
It wasn't like any old musical show that would have guests performing their latest hits. It made history by having the least likely musical pairs jam together and step out of their comfort zone. It was a pioneer in both musical and television history.


---
Night Music, Sunday Night
Sunday Night, more popularly known as Night Music, had less than 50 episodes filmed, but its influence in musical history can't be denied. The show celebrated its 25th anniversary in the year 2013. Expert saxophonist, creator, and host of Night Music, "David Sanborn, released a new album during the summer of that year.
His 1986 album, Double Vision, went platinum and won a Grammy. This is what some people point to as the reason why producers approached Sanborn with the idea to start a different kind of "late-night music show" during the late 80's.


---
The Night Music Concept
David Sanborn looked back on another influential show that made TV history to come up with the idea for Night Music. A TV special he liked that aired on CBS in the late 50's, The Sound of Jazz, had a similar concept. Famous jazz musicians who made their name in musical history would sit around in an informal environment. It resembled being in a 'jam-session'. The cameras would be moving around them, resembling the reality shows of today, but with more authenticity. They took the idea of musicians playing together in a relaxed situation and formed Night Music.
They pitched the idea to a man who will go down in history as the famous producer of Saturday Night Live, Lorne Michaels. He backed the show and made their idea real.
David Sanborn and his connections in the music industry then made a wish list that contained names of musicians they wanted on the show. It was an eclectic mix, but a large percentage of the people they asked agreed to go on. Sanborn attributed a lot of it to Michaels' prestige in the television industry, but they also relied on the musicians' desire to make interesting and unlikely music to be broadcasted on television.


---
The End Of Night Music
The end of Night Music was decided when the network didn't feel that 1.5 million viewers was enough for a show on that timeslot. After having made only 44 episodes, the last show was aired in 1990.
Sanborn has since gone on with his career and cemented his place in musical legends as one of the most successful saxophonists in history.
Collaborations that past history couldn't predict to have happened actually occurred on Night Music. Even in this modern time, imagining a set where Miles Davis crosses paths with the Red Hot Chili Peppers is hard to do. We can't know if we'll ever have a chance to watch a show that tries to emulate Night Music's format. For those who want to know more about great music and a classic yet underappreciated piece of television history, try and get your hands on a copy of this show as soon as possible.
(Night Music was hosted by David Sanborn and the pianist Jools Holland from England. The show featured the bass player Marcus Miller, the keyboard players George Duke and Hiram Bullock, and the guitar player Hiram Bullock as musical directors).
David Sanborn Reflects on "Night Music"
---
Read:

The Porcaro Brothers - Jeff, Steve and MikeThe Master Drummer Jeff PorcaroWhat Happened To The Drummer Jim Gordon?John JR Robinson - The Most Recorded Drummer In HistoryMichael Brecker, One Of The GreatestJaco Pastorius, The Life of a GeniusFrank Zappa And George DukeToots Thielemans Retire At The Age Of 91